Juan Luis Suárez de CulturePLex, en Málaga
Juan Luis tiene los grados de doctor en Filosofía por la Universidad de Salamanca (1995), doctor en Estudios Hispánicos por la Universidad de McGill (2000) y maestro en Manejo de Sistemas de la información por la Universitàt Oberta de Catalunya (2004). Es profesor de Estudios Hispánicos en el departamento de Lenguas y Literaturas Modernas en la Universidad de Western Ontario e investigador principal del proyecto El Barroco Hispánico: Complejidad en la primera cultura Atlántica. Es también director del CulturePlex Lab donde ha supervisado el desarrollo de programas de software que faciliten la investigación en las humanidades digitales, así como múltiples proyectos de investigación. Recientemente, Juan Luis Suárez dirigió la propuesta de IDI (Iniciativa interdisciplinaria) en Humanidades Digitales en la Universidad de Western Ontario en colaboración con un equipo de expertos en diversos campos de estudio que resultó en el establecimiento de un "minor" en Humanidades Digitales en la misma universidad.
Su investigación se enfoca en la complejidad cultural y teoría de la complejidad, creatividad, humanidades digitales, tecnologías del humanismo, el barroco, así como globalización y nuevas literaturas. Sus publicaciones incluyen los libros: Tecnologías del humanismo. La evolución del humanismo español (2011) y Herederos de Proteo. Una teoría del humanismo español (2008), ambos publicados por la Universidad de Huelva. Tuvo a su cargo la edición de Los mundos virtuales de Calderón. Anuario Calderoniano 5 (2012). Algunos de sus artículos en colaboración incluyen "A Virtual Laboratory for the Study of History and Cultural Dynamics" (2011), "A Digital Geography of Hispanic Baroque Art" (2013, en imprenta), "Unidad sin orden: milagros, rituales y caos en el Potosí barroco" (2012 en imprenta), y "Nuevas herramientas y el uso de redes sociales para la gestión de proyectos de investigación en conservación de arte contemporáneo" (2013, en imprenta).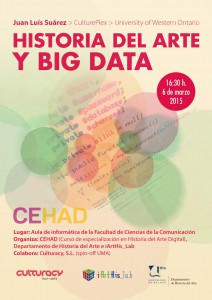 http://iarthis.iarthislab.eu/wp-content/uploads/2015/03/juan-luis-suarez-destacada.jpg
180
180
Javier Tenor
http://iarthis.iarthislab.eu/wp-content/uploads/2018/03/iarthis_logo_uma.png
Javier Tenor
2015-03-05 16:57:03
2018-03-09 10:59:29
Juan Luis Suárez de CulturePLex, en Málaga