Participación en el Congreso Internacional Dispelling Shadows: Light, Built Spaces, and Archaeological Practices
El pasado 21 de febrero de 2020, nuestro miembro de equipo e Investigadora Predoctoral Leticia Crespillo Marí, realizó una presentación relacionada con los contenidos de la Tesis Doctoral que lleva realizando desde 2017. Ésta comunicación titulada Extrapolated visuality: light as a configurator of complex neurocognitive experiences in the intervened contemporary space versó sobre los valores plásticos de la luz como medio de creación de espacios tridimensionales performativos, procesuales y cognitivos desde el punto de vista de la participación e inmersión del receptor/usuario en ellos. La intención fue explicar a la audiencia la necesidad de replantear el modo en el que se registran este tipo de intervenciones utilizando como herramienta la Realidad Virtual, por su carácter intangible e inmaterial donde lo objetual pasa a un segundo plano.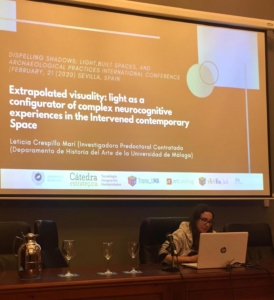 Tras un repaso transversal a lo largo de la Historia del Arte haciendo hincapié en la construcción de espacios sensoriales medievales (catedrales góticas, luz, color y configuracion de expresiones simbólicas o imágenes poéticas de recepción) la introducción de ciertas manifestaciones del siglo XX y de la actualidad (nuevos materiales) invadieron el sentido de la explicación. Instalaciones y Environments lumínicos fueron diseccionados como espacios de recepción, de imaginación, de sensación individual (mental y somática) como metáforas activas de percepcion que nos hacen replantearnos también los estudios histórico-artísticos desde la perspectiva filosófica y la neurociencia cognitiva implicando la necesidad de una transdisciplinariedad para comprender todo el fenómeno que abarca la estética, sus avances y sus consecuencias fenomenológicas/neurofenomenológicas y somaestéticas en el sujeto de la percepción. La inmersión y la teatratalidad que acusan estas manifestaciones también fueron objeto de reubicación de sentido en cuanto a la intención posterior de justificación del planteamiento de la investigación.
Para finalizar y, una vez explicada la metodología seguida y los procesos que se están realizando en la actualidad, se mostraron varios de los prototipos en Realidad Virtual (en pruebas) que se están realizando junto a Opossum Studios y que requieren aún de la implementación conceptual y de información procedente del análisis de las fuentes catalográficas y bibliográficas seleccionadas por la autora (relativa a la siguiente fase de la tesis). Con ello, se cerró la ronda de preguntas y el debate que resultaron ser muy fructíferos.
https://iarthis.iarthislab.eu/wp-content/uploads/2020/02/Dispelling-Shadows_page-0001-e1573847023221-1.jpg
931
768
Leticia Crespillo
http://iarthis.iarthislab.eu/wp-content/uploads/2018/03/iarthis_logo_uma.png
Leticia Crespillo
2020-02-24 12:59:57
2020-02-24 13:03:36
Participación en el Congreso Internacional Dispelling Shadows: Light, Built Spaces, and Archaeological Practices