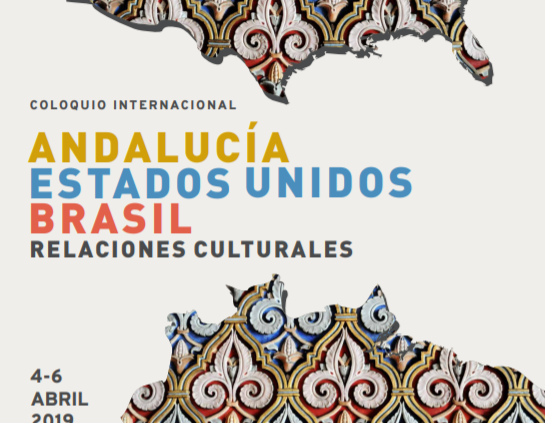 Entre el 4 y el 5 de abril de 2019, tuvo lugar el Coloquio Internacional Andalucía, Estados Unidos, Brasil. Relaciones culturales, celebrado en el Palacio de Carlos V y organizado por el Patronato de la Alhambra y Generalife. Coordinado por el profesor Rafael López Guzmán (Catedrádico de Historia del Arte de la Universidad de Granada), este coloquio tuvo por objetivo reunir a un conjunto de expertos en las relaciones culturales establecidas entre Andalucía, Estados Unidos y Brasil, con la participación de investigadores provenientes de diversas instituciones, tanto nacionales como extranjeras: Richard Kagan (Universidad John Hopkins), Cristina Domenech (Hispanic Society of America), Luis J. Gordo Peláez (California State University), Michael A. Brown (San Diego Museum of Art), Pedro Dias (Universidad de Coimbra), y un largo de etcétera de grandes profesionales.
Entre los participantes se encontraban dos representantes de la Universidad de Málaga, el profesor y catedrático José Miguel Morales Folguera y la doctoranda, y compañera de equipo, María Ortiz Tello, con una conferencia titulada Picasso y su relación con las instituciones museísticas estadounidenses con menor visibilidad internacional, en la que analizó la recepción y difusión del arte de Picasso en diez instituciones estadounidenses: San Francisco Museum of Modern Art, Dallas Museum of Art, Albright-Knox Art Gallery, Cleveland Museum of Art, Baltimore Museum of Art, The Phillips Collection, Worcester Art Museum…
El encuentro fue una excelente oportunidad, así mismo, para establecer relaciones con todos estos grandes profesionales, mostrándoles, a su vez, los proyectos que se están llevando a cabo en la UMA, como los que plantea nuestro grupo de investigación.
En los próximos meses serán publicadas todas las conferencias en un volumen a disposición de todos los interesados. Les informaremos cuando esté disponible.
http://iarthis.iarthislab.eu/wp-content/uploads/2019/05/alabram.png
791
545
Maria Ortiz
http://iarthis.iarthislab.eu/wp-content/uploads/2018/03/iarthis_logo_uma.png
Maria Ortiz
2019-05-09 07:31:27
2023-04-05 09:36:44
Coloquio Internacional: Andalucía, Estados Unidos, Brasil. Relaciones culturales